Welcome to the Glitz by Schwitz Prize Program!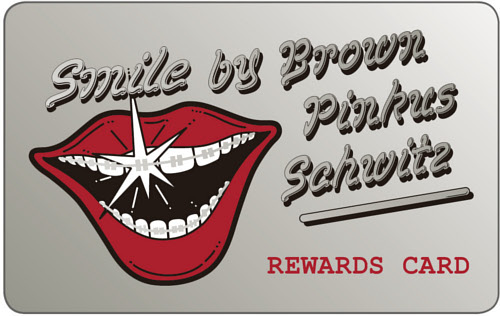 Welcome to our Glitz by Schwitz Patient Prize Card Program. We are committed to creating beautiful smiles and exceeding your expectations in every way. Your orthodontic treatment with us will have life-long benefits. Our "Prize Card" is full of encouragement and fun as we work together to achieve your goal of a beautiful and healthy smile.
Here are a few ways you can earn points on your Prize Card:
Great brushing
Seeing your dentist regularly
(Remember to take a dental voucher with you; download and print at the top of this page)
Not having loose or broken brackets
Being on time
Wearing your Glitz by Schwitz T-shirt to the office
Points can be redeemed for great prizes on our website. To redeem points, simply click on the "Check card prize balance" option located at the top of this page. Prizes are available online for 100 points or more and include a wide variety of gift options.