Being A Great Patient Can Be Rewarding!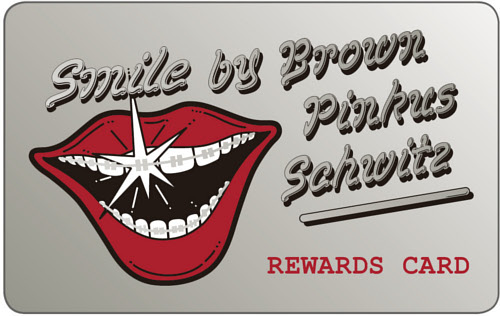 Prize Program Guide
Click here to download your own copy of Prize Card details
Start earning points now to redeem for GIFT CARDS!
How to earn points:
Being on time for any regular appointment = 1 point
Visiting us for a New Patient appointment (welcome to our office!) = 5 points
Visiting us for an Observation appointment = 5 points
Wearing your rewards T-shirt to your appointment = 1 point
Great brushing! (Grade A brushing) = 2 points
No loose or broken braces at a regular visit = 1 point
Losing a baby tooth while in the office = 5 points
No loose brackets during your entire time in braces = 25 points
Perfect attendance (no missed appointments during your entire time in braces) = 25 points
Leave a review in your online rewards account = 5 points
Like us on Facebook = 5 points
Refer a friend! (Family must be new to our practice) = 50 points
Leave us a Google review! = 50 points
Check out the "EARN POINTS" section in your online rewards account for even more fun ways to get points!
To Get Started
Download the Patient Rewards Hub app -OR- log on to www.schwitz-orthodontics.patientrewardshub.com/ and click on "Register". Enter your 16-digit Rewards Number located on the back of your rewards card and follow the prompts to complete registration.
To Redeem Points
Once you have earned 100 points or more, login to your online rewards account and click on "Shop Rewards" to browse gift cards. Happy Shopping!
For help troubleshooting your online rewards account, call Patient Genius at 1-800-560-1469